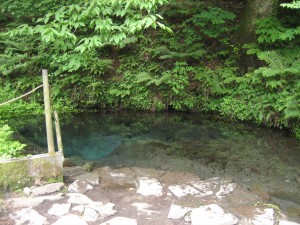 At spring springing out of the foot of Kurodake, it is chosen as 100 selections of Japanese famous clear water.
Water temperature keeps 12.6 degrees Celsius through the year, and quantity of gush amounts to 14 tons a minute, about 20,000 tons a day.
As there is virgin forest of Kurodake within striking distance, and promenades are maintained, we can enjoy trekking and forest bathing.
In the case of entrance, cleaning cooperation gold 100 yen is needed.
Access It is 40 minutes by car from JR Tenjin-yama Station
Contact
Shonai Community Promotion Section (main government building the first floor of the new building)
Telephone: 097-582-1113