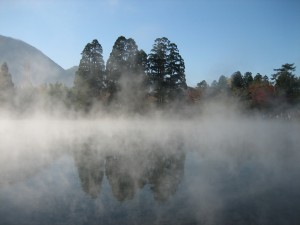 Lake Kinrin is one of the tourist attractions representing Yufuin.
It is said that scale of fish swimming in lake is golden in the setting sun, and Confucianism person, Kuso Mori of the early period of Meiji named "Lake Kinrin" on seeing what shine.
It is said that Shimizu and hot spring flow into lake and can see winter fantastic scene which the steam goes up early in the morning from surface of a lake through the year as water temperature is high.


Contact
Person in charge of Yufuin Promotion Bureau Community Promotion Section area promotion
Telephone: 0977-84-3111